Tackling the iconic Lamington Stinson Hike
As a bucket list first-timer
By Nikki Hobbs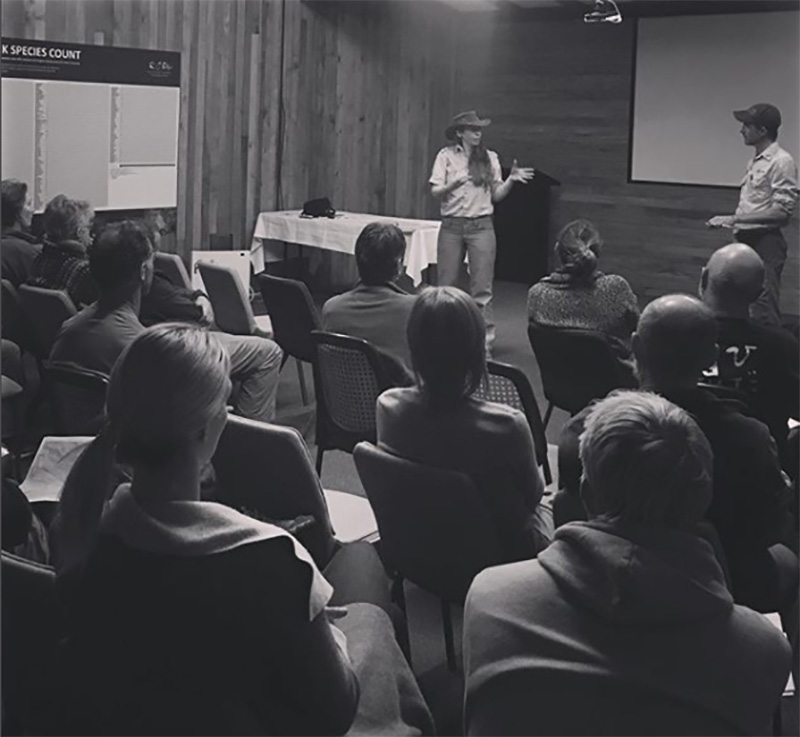 I woke to the screech of my alarm sounding at an unhumanly 3:45am while cursing the glass of Sauvignon Blanc I admittedly consumed at the hike induction nine hours earlier.
Last night's 80th anniversary participant briefing was hosted by experienced guides Cat and Mark alongside ecotourism veteran Big Pete O'Reilly – now aged 84 – and one of the driving forces behind the Retreat's decades of success.
Big Pete's heartfelt recount included black and white images of the Stinson Model A aircraft 'City of Brisbane' who's disappearance on the 19th February, 1937 reinforced the reasons why four dozen guests gathered in the rustic timber-lined O'Reilly's theatrette to embark on Australia's iconic adventure hike.
Hushing the alarm and fielding through the darkness from the warmth of my Retreat room I powered for my suitcase, organised the night prior with obsessive precision. After reading O'Reilly's tips to prepare for Australia's iconic adventure walk and completing my morning rituals of soothing Zen oil to my feet (a muscle and joint relief remedy) and drowning my bamboo socks and Keen boots with Aeroguard, I hurdled for the door with Sally Pearson athleticism (oh I wish)!
Eager hikers of the 37-kilometre 'Retracing Bernard's Footsteps' group, including myself, congregated around the buffet breakfast stations to consume a wholesome meal bound to sustain our bodies throughout the 12-hour journey ahead. With satisfied bellies, camera flashes and selfie-sticks aplenty, our team equipped with head torches, embarked via the graded Border Track bound for Echo Point.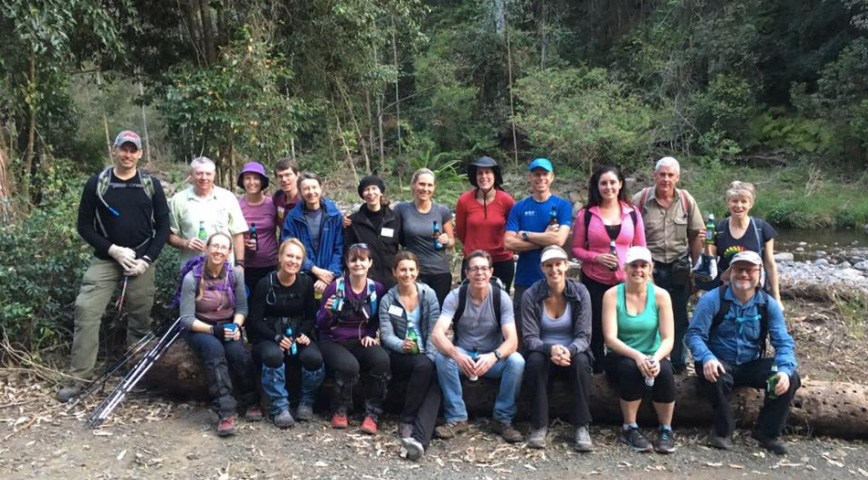 Our infectiously enthusiastic guide Cat Davidson set a brisk pace in order to capture sunrise in all its glory and weed out those who didn't appease her fitness standards. Thankfully there were none (phew!) The well-communicated requirements for walkers included a strict pre-fitness regime in order to climb a total of 1040m and descend a further 1590m – including a killer 700m scramble from Point Lookout to Christmas Creek. Monthly emails (often from our guide Cat) were disseminated to assist us with all the pre-training guidance.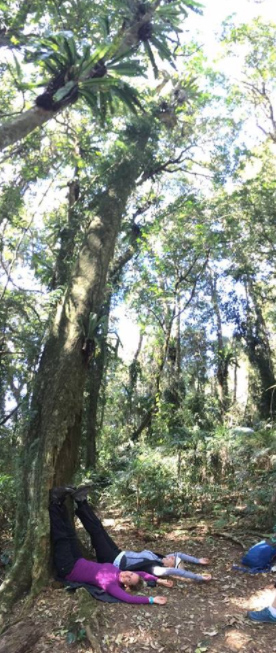 Graded rainforest trails soon diminished into thick elevated vegetation at Ratatat and Mt Durigan, and we were soon engulfed in spiny lawyer vine and jumping fallen timbers like jack rabbits. The relentless pace continued in order to see us reach Point Lookout by noon lunchtime. Here we were rewarded with epic mountain views over the three dimensional valleys below boarding New South Wales.
With the taste of salad wraps on our lips and the lactic acid building in our weary legs, we were further ushered to the clearing – just meters from the crash site – where our group respectfully ate from our lunch packs provided. This exact location eight decades earlier saw the rescue party and survivors safely through the night before carrying the injured to safety on stretcher beds.
Those with fuel in their tanks hiked down a further steep descent to the crash site to witness the last remains of the Stinson aircraft which plummeted from the sky. I opted to channel my energy (and increase blood circulation) with an improvised yoga pose with girlfriend Courtney.
The finding of two survivors ten days later by mountain dairyman Bernard O'Reilly is one of the most dramatic chapters in Australia's rich aviation history. Cat set this heroic tone by reading several extracts from Green Mountains as we silently listened and devoured the remains of Allen's snakes and chocolate bars.
Personal reasons for embarking in Bernard's footsteps were aplenty among my fellow hikers, including some direct relatives of the rescue party and others rather sharing the historic experience with children.
A small rope abseil followed, spurred on by fellow hikers to ease my paralysing fear of heights. The sounds of nearby Christmas Creek gave hope that the trailhead was now within reach including a small detour to pay our respects at Westray's gravesite.
As dusk drew upon us, the rewarding taste of a cold drink (or beer for some) awaited and included a spare of clean clothes followed by a two-hour endorphin fuelled drive back to O'Reilly's Rainforest Retreat via Beaudesert and Canungra.
After a lightening speed shower, hikers later met around long timber dining tables to share in a celebratory platter-style meal and recount the day's adventure. Tired and weary bodies congratulated each other on their personal triumph and many friendships were formed over a vino (or two)!
However, "Sunday is the day when you find out if your pre-training was sufficient not to leave you feeling stiff and walking funny", our guide Cat explained. I opted to recount the previous day's gruelling from the tranquil O'Reilly's Lost World Spa during a foot soak and full body massage. Possibly the best choice I have ever made!
---
My Top 8 First Timer Tips
---
Pack sufficient tissues for the brisk morning stint which left my nose undesirable to say the least

Sleep the night before and after in your 2XU compression tights for optimal comfort, recovery and to avoid cramping

Read Bernard O'Reilly's autobiography Green Mountains before embarking on the experience. It will add a new dimension to an already fabulous adventure

Don't over pack water in your backpack. Note I took 5 Litres however this was too much and I did offload some en-route to lighten the load

Be prepared with all your equipment including walking poles for the steep gradients

Pack electrolytes in your camel pack to avoid cramping and dehydration

Don't forget to book a Day Spa treatment for optimal recovery and satisfaction

Have fun and remember to hashtag #stinsonhike

---
---
Hike Background
The Stinson walk is part of a twice-yearly O'Reilly's Rainforest Retreat package, offering two rewarding routes (37 and 16 kilometres) to retrace Bernard's footsteps through the rugged McPherson Range to the famed Stinson crash site.
Note private groups are also welcome.
---
Tackle the Stinson Walk
The 2018 guided Stinson hike experiences will be hosted from May 11-13 and August 10-12 and visit further information can be found here.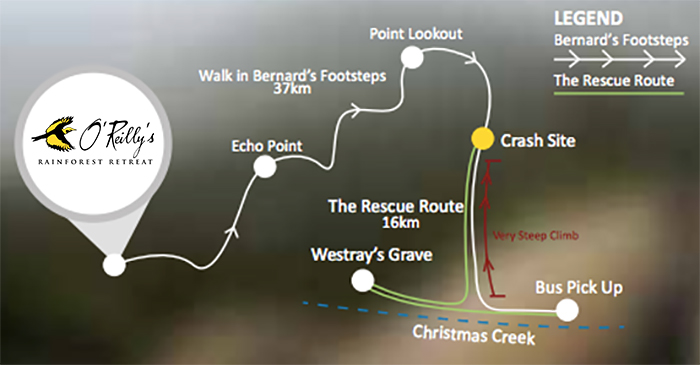 *Note: Nikki is an O'Reilly's staff member who participated as a guest on the anniversary hike