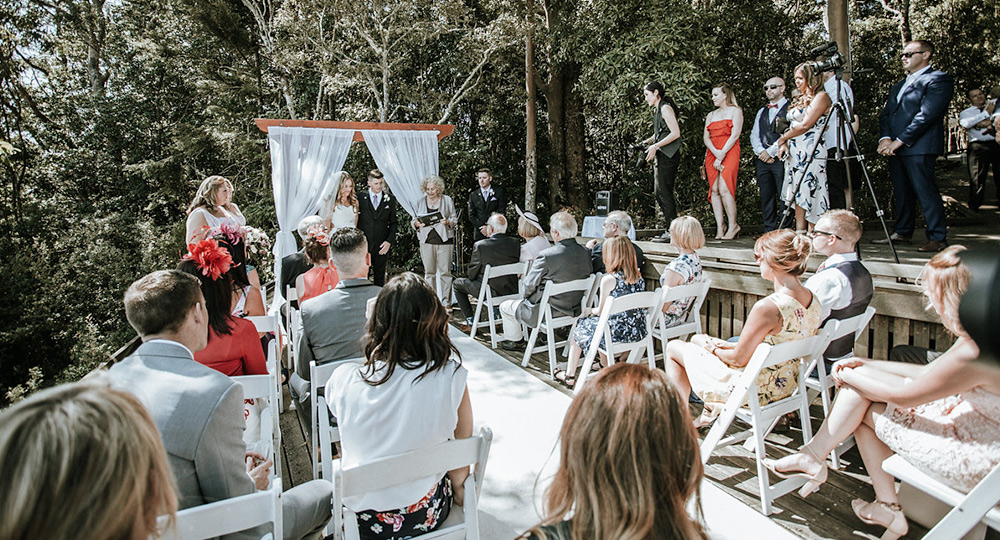 Photography: Up In The Attic
Location: Moonlight Crag
THE RING has been selected, the question asked and you're getting married! Surely planning the wedding is the easy part? O'Reilly's make it easy with a venue that says it all!
---
IMAGINE your wedding ceremony in the rainforests of Lamington National Park, on a cliff top surrounded by ancient mountain ranges, rising more than 1100m, and dating back some 300 million years.
Meet John and Sara who exchanged wedding vows on the mountain top at Moonlight Crag in front of friends, family and the ancient trees that stood guard on the cliff's crest.
Moonlight Crag Cliff Top Deck is a premier venue for wedding ceremonies with options for sunset experiences, pre-dinner drinks and amazing photo opportunities. With dramatic mountain views and lush green forest as your backdrop, both you and your guests, will feel the magnitude of your vows in this remarkable setting.
Meet Lucy and Brenton who said 'I do' in in an intimate and exclusive ceremony in the depths of Lamington National Park's lush rainforest at Hidden Gully.
This fairy tale setting, delightfully sheltered by the tree canopy above, seats your guests deep within a forest fantasy that will highlight the magic on your special day.
Book a site inspection with O'Reilly's Event Manager to check out other unique places to tie the knot including nearby property Luke's Bluff and the small historic St Joseph Church.
The Reception
Tucked in the valleys of the Gold Coast Hinterland, entrenched in nature with a bubbling creek and a backdrop of vines draped in this season's grapes, is O'Reilly's Canungra Valley Vineyards.
Meet Elise and Brad who celebrated their marriage with friends and family, champagne and canapes, in front of the 100-year-old heritage listed homestead at O'Reilly's Vineyards.
For those hoping to capture some historic splendour, the homestead venue is complete with nine-foot iron pressed ceilings and ideal for smaller parties of 30 to 70 guests.
Or for those with bigger numbers, you can have your reception in the white dressed Marquee, with wooden floors and chandelier lighting, or perhaps you would like the rustic charm of the Wine Cellar.
Complete with vineyard acreage and lush green mountain views, Canungra Valley Vineyards makes for a magical wedding reception steeped in beauty …  and I'm not just talking about the bride!
Back on top of the mountain, the private Lost World Conference Centre & Terrace at O'Reilly's Rainforest Retreat seats up to 150 guests and includes a bar and terrace with breathtaking views over an infinity pool to the McPherson and Great Dividing Ranges. This spectacular 'lost world' setting provides the perfect environment for a wedding reception with memories to match.
Engagement and Wedding Experiences at O'Reilly's
1. Capture your Wedding Creekside
Canungra Valley Vineyards is an ideal wedding venue catering for intimate to large groups with country style, grand mountain views, a bubbling creek and surrounded by vineyards.
2. Marquee magic for your reception
O'Reilly's Canungra Valley Vineyards is home to this stunning 200 pax marquee with a tin pressed bar and timber furnishings that really capture the hinterlands country charm.
3. A breath-taking ceremony at Moonlight Crag
Saying 'I do' surrounded by nature with the dramatic cliff tops and dense green forest as your backdrop at Moonlight Crag.
4. Pop the question amongst arguably some of the best views in the world
A high flying proposal overlooking the ancient valleys and mountain ranges from a World Heritage national park… does it get any better?!
5. A magical ceremony in World-Heritage listed Rainforest
Fairy tales can come true with magical wedding venues like Hidden Gully – nestled deep in the ancient Rainforest of Lamington National Park.
Weddings at O'Reilly's Rainforest Retreat and Canungra Valley Vineyards are simply unforgettable – with several unique and spectacular locations that have arguably some of the best views in the world.  Click on the banner below to find out more about upcoming Wedding Open Day – held at our Vineyards on Aug 26 from 10am – 2pm.