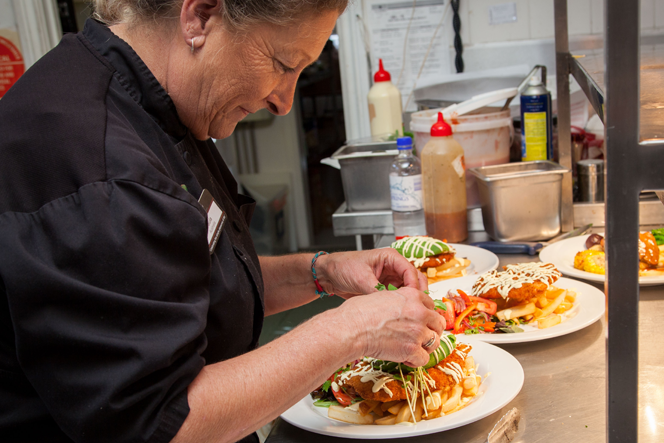 Image: Chef Paula hard at work… again!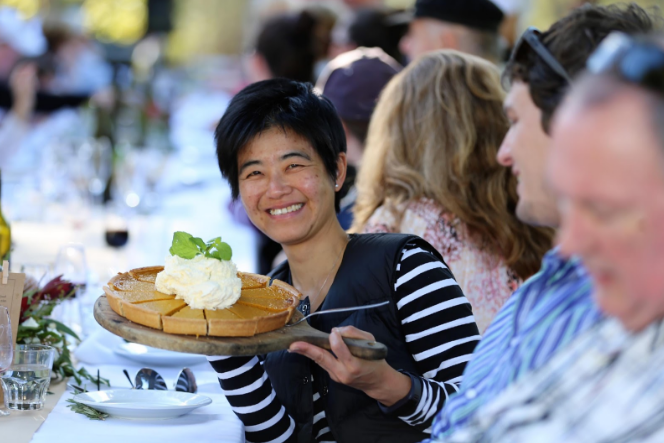 Image: Chef Paula's Pumpkin Pie at the 2017 Eat Local Week Long Table Lunch at O'Reilly's Canungra Valley Vineyards
Don't wait for Halloween as an excuse to enjoy Pumpkin Pie! It is delicious any time of the year.
After four years of finessing her culinary skills managing Canungra Valley Vineyard's Vintage Restaurant, Chef Paula's famous pumpkin pie made it's debut at the 2017 Eat Local Week Longest Table Luncheon.
Utilising the freshest pumpkin produce from White's Farm in nearby Kerry Valley, guests of over 100 have been singing her praises regarding this diverse dish ever since!  
TIPS: Cook like a pro
Extract as much liquid from the pumpkin as possible. (The less liquid left in the pumpkin, the shorter cooking time and firmer consistency of the pie)

Your measurements must be as accurate as possible

Opt for pre-made pie bases if you're short on time

Use fresh pumpkins from the Kerry Valley
Filing:
625g pumpkin

1 (400g) can evaporated milk

2 eggs, beaten

1 cup (185g) dark brown soft sugar

½ teaspoon ground cinnamon

½ teaspoon ground ginger

½ teaspoon ground nutmeg

½ teaspoon salt
Pastry:
3 cups (375g) plain flour

1 teaspoon salt

220g butter

½ cup (125ml) cold water
Preparation Method:
Prep: 30 minutes
Cook: 1 hour 10 minutes
Preheat oven to 200 degrees C.

Halve pumpkin if necessary and scoop out any seeds and stringy portions. Cut pumpkin into chunks.

In a saucepan over medium heat, cover the pumpkin with water and bring to the boil. Reduce heat to low, cover and simmer for 30 minutes or until tender. Drain, cool and cut away skin.

Return pumpkin to the saucepan and mash with a potato masher. Drain well and measure 500g of the mashed pumpkin; reserve and excess pumpkin for another use.

Prepare pastry by mixing together the flour and salt. Rub butter into flour and add 1 tablespoon cold water to mixture at a time. Mix and repeat pastry is moist enough to hold together.

With lightly floured hands, shape pastry into a ball. On a lightly floured board, roll pastry out to about 5mm thickness. Transfer to a 20-23cm pie dish, gently pressing pastry into the base and up sides.

Cut off any pastry hanging over the sides of the dish, and pinch pastry securely around the inner edge. Refrigerate and remaining pastry for another time.

In a large bowl with mixer speed on medium, beat pumpkin with evaporated milk, eggs, sugar, cinnamon, ginger, nutmeg and salt. Mix well.

Pour into a prepared pie dish. Bake in preheated oven for 40 minutes or until a knife inserted in the centre comes out clean.